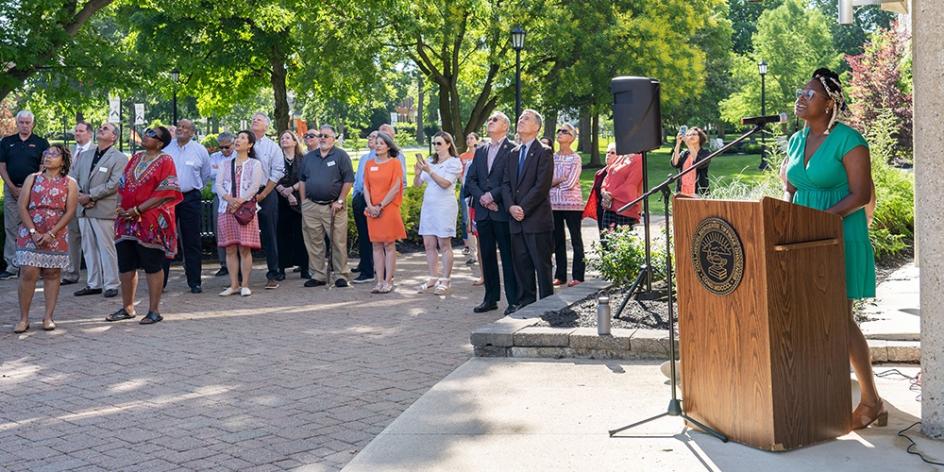 In observance of the Juneteenth holiday – the day in 1865 when the last slaves were emancipated – Heidelberg University hosted a Juneteenth flag-raising at Beeghly Library Friday morning.
The ceremony was the first in a series of community events scheduled for this weekend to commemorate Juneteenth. A local committee, comprised primarily of local educators and clergy, worked together to organize the flag-raising ceremony, along with a movie matinee on Saturday and a family picnic on Sunday.
Kiera Harper, an admission counselor who serves on Heidelberg's Diversity, Equity and Inclusion Committee, provided the welcome and introduced Zaria Keys, who performed a rendition of the Black national anthem, "Lift Every Voice and Sing." Zaria is a rising junior from Lima, Ohio, who is majoring in theatre and psychology.
Following the flag raising, the ceremony concluded with a prayer from 'Berg chaplain Paul Sittason Stark.
Paul is a member of the committee that planned the community events. He was joined on the committee by Morgan Harrigan, DoHee Kim-Appel, Kiera Harper, Nichole Griffin and Sarah Lazzari, all representing Heidelberg and its DEIC, along with Marilyn Coney, Michael Goodnough, Aaron Gerlach and Sister Paulette Schroeder.
 
Published on
Jun 17, 2022