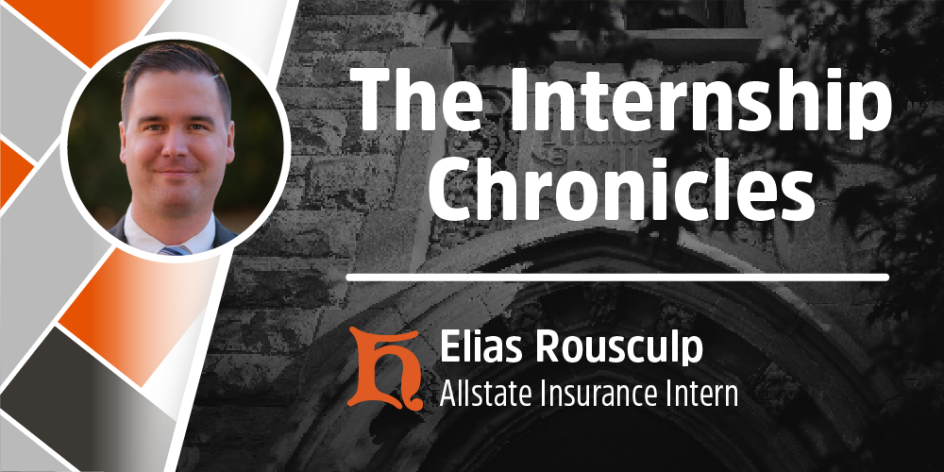 ---
One winter day, a Student Prince decided to go on a little adventure. "It won't be long before I have a career," the Prince said, "so I'd better start preparing now." So with some 'Berg education under their hat, and some connections in their back pocket, the Student Prince began forging their way through an internship.
We continue our web series, Internship Chronicles.
Chapter 22: A New Beginning
Elias Rousculp is a musical theatre major from Worthington, Ohio. He is searching for careers beyond his specialization that allows for a work-life balance, as he loves pursuing his passions independently and spending time with his friends and family. This semester, he is interning with Allstate Insurance agent David Stover here in Tiffin, Ohio. He is proud to have just earned his license to engage in the insurance business earlier this month!
How did you find your internship, or how did the internship find you?
Beth Koop and the HYPE Career Ready program was 100% responsible for setting me up with Dave.
What did you expect from your internship initially?
Initially, I only expected to learn if insurance sales would be a good fit for me, or if I should look at other fields.
What really happens in your day-to-day work?
I start the day with some educational course videos, and then I make calls to leads. I do my best every day to get people the insurance coverage they need at a price that works.
What connections have you made?
I've actually grown more involved and familiar with the Tiffin community throughout this process. Professionally, I'm happy I've gotten to know the great team here at Allstate in Tiffin.
What is the most valuable thing you'll bring back to the classroom after this experience?
I'll actually be graduating after this internship concludes– but the most valuable thing I've gained would be a sense of direction.
If your internship was a book or a chapter in a book, what should it be titled?
"A New Beginning"
To keep up with Elias, check him out on LinkedIn. 
 For more information about Allstate Insurance in Tiffin and Elias's mentor check out their website. 
Published on
Feb 28, 2023