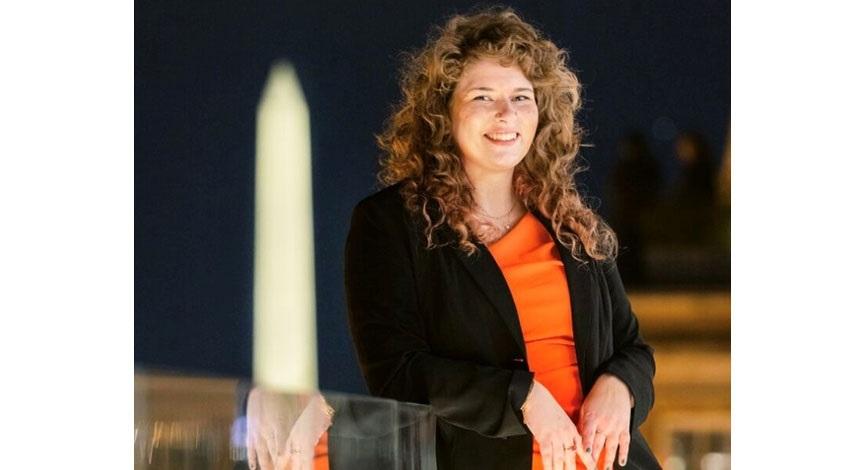 ---
Sometimes, it's all about networking opportunities and the connections you make. That's certainly true for '21 grad Alyssa Edmond, who's working toward a career in the defense and intelligence communities.
After spending the summer as an advisor with Girls Who Code at the organization's summer program, Alyssa moved to New York and just started her graduate degree program in cyber security with the University of California Berkeley.
But it was a program she participated in earlier this fall that will have a profound impact on her career prep going forward. Alyssa was invited to be a National Defense Fellow through her previous experience with the Ronald Reagan Foundation and Institute and its Leadership and the American Presidency (LTAP) summer program.
"I was extremely lucky to be able to attend the LTAP program remotely in the summer of 2020 after COVID-19 wrecked everyone's summer plans," says Alyssa, who triple majored in Computer Science, Political Science and Philosophy in Heidelberg's Honors Program.
Soldiering through 'boot camp'
As a National Defense Fellow, Alyssa had the opportunity to participate recently in the "Peace Through Strength Boot camp," along with 20 other fellows from top schools around the country. She described the boot camp as "a very intensive and engaging weekend of seminars with this country's top analysts on national defense strategy."
The fellows spent about 10 hours each day working through academia, budgetary documents "and discussing the state of defense policy in the country today." They collaborated with some of the top analysts in the field, including Will Roper, U.S. Air Force Service Acquisition Executive and founder of the Pentagon's Strategic Capabilities Office; Diem Salmon, Adjunct Senior Fellow at the Center for New American Security and former Budget Director and Deputy Policy Director for the Senate Armed Services Committee; and Raphael Cohen, Associate Director of the Strategy and Doctrine Program in Project AIR FORCE and RAND.
A meeting of the (defense and intelligence) minds
In December, Alyssa and the fellows will follow up boot camp by participating in the Reagan National Defense Forum, one of the largest bipartisan defense conferences in the country. While there, they'll have the opportunity to connect with some of the top minds in defense policy, including members of Congress, current and former Administration officials, senior military leadership, industry executives, technology innovators and other thought leaders to discuss and debate the state of defense strategy and potential improvements.
So far, the program has been fascinating and thought-provoking for Alyssa. But the biggest takeaway has been the networking opportunities.
"Not only have I been able to connect with the greatest minds in my field professionally, but I have also made friends with the other fellows from some of the top schools around the country," she says. "In my experience, the greatest moments happen when talking with like-minded individuals, not in a formal seminar, but over drinks after hours or in hotel lobbies at 3 a.m."
Serving as a National Defense Fellow has positioned Alyssa to work within the defense and intelligence communities with a sense of familiarity.
"The goal of the fellowship is to equip young professionals with the existing knowledge, nomenclature and connections to enter a very cut-throat industry with background understanding and people in our corner," Alyssa says.
She's well on her way!
A campus homecoming
During Homecoming Weekend in October, Alyssa returned to the Heidelberg campus for a very special reason. She had the honor of inducting her late grandfather, Dick Edmond, into Heidelberg's Athletic Hall of Fame. After a long career that began and ended in newspaper journalism, Dick had served as Sports Information Director at Heidelberg from 1990-98. His legacy was as a great storyteller who uplifted amateur athletes throughout his career. 
 
Published on
Nov 10, 2021
Programs
Computer Science
Philosophy
Political Science